Criminal Investigation Notes - Chapter 2
Chapter 2
In the spring, when everything was revived, those cases were like maggots that kept popping up from the melting snow and ice.  
For months, Song Wen was so wrapped up in these things that he didn't take the May Day holiday. After 48 hours of continuous investigation, arrests, interrogations, and suspects tormenting each other, he finally managed to extract a confession, and found a key piece of evidence. He had just led the entire team in solving the big 418 case, and earlier that morning he helpfully drew a portrait for the second team to help them solve a case on the way.  
May was the season of flowering. The flowers in front of the South City Police Department were in full bloom, and summer was just around the corner.  
Song Wen came out for some fresh air, taking a break from writing his final report. His eyes were bright and he was on alert, so after a quick glance, he immediately noticed the difference. Not only were there more flowers in the yard, but a brand-new Lamborghini had also appeared.
Seeing a luxury car this early in the morning, he felt it was very refreshing. Song Wen strode into the office while smiling and called out to his lieutenant. "Hey, Linjiang. Who owns that luxury car parked over there?"  
His second-in-command, Fu Linjiang, came over and said, "Captain Song, that car belongs to a newcomer in our team."  
"Our team? Newcomer?" Song Wen was surprised.  
Fu Linjiang tilted his head and looked at Song Wen with a faint smile.  
Unlike Song Wen, who was a young and a prickly man, this lieutenant was like a famous sage in the police force. He was as gentle as a spring breeze. Whenever Song Wen lost his temper, or things got turbulent, this vice squad captain could dispel his anger with just a few words. 
Therefore, this lieutenant had a very good reputation in the city bureau, and he was even more popular than Song Wen.  
As a twenty-eight-year-old young police officer, Fu Linjiang was too easy-going and humble. He was moderately competent, meticulous and patient, secure in his own skin, mild and unambitious, and very self-consciously willing to submit to others. 
According to Chief Gu, Fu Linjiang had a good temper and was like a bodhisattva. Unfortunately his character wasn't suitable for restraining vicious criminals. Therefore, Fu Linjiang left the two old captains, and partnered with Song Wen.  
Everyone in the group joked the vice captain was like flowing water while the captain was as strong and unyielding as steel (T/N: they complement each other). Having such a vice captain by his side saved Song Wen a lot of effort. Song Wen habitually asks Fu Linjiang to update him with all news and the progress of the case.  
"A newbie? Driving this type of car? What kind of cop is this rich?" Song Wen frowned and asked Fu Linjiang. Song Wen had already spoken to Chief Gu about the application for entry, but this was not in compliance with the process and rules. So why did this newbie come here directly before they passed him?
This kind of 'first act, then report' behavior did not sit right with him.
Fu Linjiang nodded. "Well, the newbie arrived in the morning and went to report attendance and receive his police uniform." Fu Linjiang handed Song Wen a folder. "Here's his file. It just came in the morning."
Song Wen received the file. He saw that it did not have any photo attached. He casually flipped through it and asked Fu Linjiang, "Did you see him? What sort of person is he?"  
Fu Linjiang thought for a moment and settled on his answer. "Pretty good looking…… "  
Song Wen's gaze lifted from the file. "I asked what kind of person…… "  
Fu Linjiang thought about it, but he still couldn't think of any other comment. He repeated his answer. "Really pretty. The type of person who can commit a murder and get away with it by solely relying on their face."  
It was a very high evaluation. Song Wen had never seen Fu Linjiang describe anyone else that way. Song Wen poked fun at him and said: "How could Chief Gu be so considerate this time and assign a beautiful woman here? I'll let you deal with your personal interests later. "  
Fu Linjiang knew that Song Wen had misunderstood. He smiled as he explained in a small voice. "It's a man."  
Hearing that, Song Wen's face stiffened, and his eyebrows furrowed. He snapped the file shut, and said with some unhappiness: "It only looks good and can't be eaten. What is Chief Gu doing? I need people to work here."
"Nowadays, who doesn't rely on their face to get by?" Fu Linjiang laughed. "Captain Song, you're being sexist." 
Song Wen couldn't hold back any longer when he heard this and went upstairs to knock on the door of Chief Gu's office.   
Chief Gu was the head of the South City Bureau. He is over 50 years this year, with only three years left till he retired. When he wasn't in uniform, he was like any other old man, playing Tai Chi in the little park next door.  
Although Chief Gu was very old, he wasn't pedantic. He kept himself active and he was rich in experience, cracking countless major and important cases. He'd been in this city bureau for more than ten years, so he more or less regarded this place as his family. His subordinates all said that as long as there was  Chief Gu in South city, the Bureau would be unshakable.  
At this time, Chief Gu had already prepared a cup of chrysanthemum tea for himself. The scent of chrysanthemum permeated the air in the room. Hearing the knock on the door, he raised his head. As soon as he saw Song Wen, he beamed with joy. "Xiao Song, your team quota is finally getting filled. I was about to tell you…… "  
"I just heard. It seems that, I, the captain, am the last one to know that our team has a new person joining." Song Wen put the folder down on the table as he spoke. Then he stood straight with his slender legs and got to the point. "Chief Gu, can I not accept this person?  
Chief Gu's brows furrowed at those words and he glanced at Song Wen a little strangely. Song Wen's eyes were small, but paired with his sharp eyebrows, they looked narrow and bright.  
Song Wen was recruited by Chief Gu, and he'd been Chief Gu's right-hand man for several years now. Some people in the Bureau even joked that Song Wen was Chief Gu's personal disciple.  
Chief Gu didn't have any of the arrogance of a high-level official, and thanks to that, Song Wen had always been straightforward with his words. Chief Gu didn't know how this new talent, who had just arrived, had already ruffled Song Wen's feathers. But from what he knew about Song Wen, there must be a reason for it.  
Song Wen explained. "Did you read my demands before? Our team is short of a regular junior detective. Although the job description is similar, it requires meticulousness, proficiency in writing, courage, hard work, ability to go out in the field, and write summary reports."
Steam rose from the chrysanthemum tea as Chief Gu asked with a faint smile, "Which requirement does he not meet?"  
Song Wen leaned forward slightly, looking unhappy. "I needed a criminal police officer who could be on the field daily, but now you've handed me a Lin Daiyu. It's not like I need him to sing the story of the West Wing Chamber."
(T/N: Lin Daiyu is the heroine of the Chinese classic "A Dream of Red Mansions".
West Wing Chamber is a classic play.)
Hearing his words that basically implied 'a donkey's lips don't fit a horse's mouth', Chief Gu's eyebrows rose and he said, "Bah, the West Wing Chamber was sung by Cui Yingying."  
Song Wen shrugged. "That's what I meant anyways." 
Chief Gu flipped open the file: "Xiao Song, you didn't read the file properly, did you? The kid has a double-degree and he can be both a forensic scientist and a detective. After consulting with the kid personally, he was assigned to you to get some experience with the detective force."  
Song Wen frowned as he looked at it. He first applied for the forensic major, and then switched to a postgraduate major in investigation. In all fairness, his file was very nice. It was written clearly in black and white. There was no fault to be found in the practical tests of his subjects, and the self-assessment was written beautifully. Besides, there was strength in beauty.  
But these things were all excellent on the surface only. Song Wen had many things to say, reading in between the lines. He took a jab at his age. "Didn't you always tell us that our academy scores didn't have much importance? No matter how good his test scores are, it's still not good enough. He's already 26 years old and still a rookie detective?" 
Twenty-six, half a year older than him. Song Wen minded that very much.  
"I also taught you that being a detective isn't only a physical job. It requires intellect and experience too. Although he's a bit older, he's not as young as some of your other team members. Isn't it good to have such a subordinate? Why are you pushing him away? "  
At this point Chief Gu threatened him and said, "Brat, do you think you are buying people from Taobao? You want a seven days no-questions-asked return? If you don't want him, I'll give him to Old Lin."  
Old Lin's full name was Lin Xiuran. He was head of the identification center of the City Bureau. There were currently four forensic doctors in charge of forensic medicine and technical investigation in the forensic medicine department. Considering how they were divided among three teams, the manpower was very limited, and it was often very hectic.
Song Wen had a pretty good relationship with Lin Xuiran, even calling him brother. But now he refused to give up his quota. "Don't ah. Can't Brother Lin hold on? You know the situation of our team. Old Qin just retired due to injury in March. In fact, we're short of two people compared to other teams. Still, our speed and rate of solving crimes is the highest. Can't you give us a skilled one? Isn't it to save your face too?"  
Song Wen cried pitifully, trying to falter Chief Gu. "If I give the newbie to Old Lin, are there any other candidates?"  
Chief Gu shook his head, looking unmoved. "Don't beat around the bush. I'd like to hear your specific reasons for not wanting him."  
Song Wen sorted out his thoughts and said seriously, "Chief Gu, first of all, did you see the car that kid drove in? That Lamborghini, we couldn't afford it even if we sold the entire police force. And the person's looks are so eye catching, it would be an eyesore taking him out on a case. You've sent over such a spoiled rich second generation. Besides, Interpol is a high-risk occupation. Not to mention a few scoldings, we can't even afford a single bump. This kind of person is from a good family, and received a good education. He's cold and arrogant and superior. I'm afraid that he and the rest of the team won't get along and he'll drag the team down. So I can't take him in."  
Chief Gu listened to him, and took a sip of his chrysanthemum tea. "Let me analyze your reasoning. It's either because you think that he's older, received a better education and has more money than you, so you're afraid of being overwhelmed. Or you're afraid you won't be able to solve cases because of the trainee, resulting in you losing face. Or you don't want to take on an apprentice that you'll have to babysit. Perhaps it's all three." Chief Gu deliberately provoked Song Wen.  
When Song heard this, he stopped beating around the bush and immediately got straight to the point. "No, Chief Gu. Let me ask you. Before we'd have to apply six months in advance and still not get in the line, so how does this kid, who's been here only for a few days, already have all of his paperwork done? He's registered in Jincheng. In terms of grades, he'd have no problem getting into a North city bureau. So why would such a person come to the South City Bureau? We're still struggling here, and a month's salary wouldn't be enough to buy himself even a shoe……"
As the saying goes, when something was out of the ordinary, it must be a demon. This man's entry was too ill-timed and unnatural.  
Chief Gu looked at Song Wen. He knew that his subordinate was an excellent detective and that his observational acumen was very high. Unable to fool Song Wen anymore, Chief Gu snorted and confessed. "I received a notice from the provincial bureau to take care of him. My old partner also gave me a call. But it's not as complicated as you think. His mentor, a forensic scientist, wrote a recommendation for him to come and train here. He grew up here, and prefers the South City environment. His graduation assignment is due in June, but he's already passed all of his exams. Furthermore, his papers were all graded with honors, so he came to join early."  
Song Wen said, "His mentor's face sure isn't small."  
"He's an old cop from South City, former partner of the provincial bureau chief. The weight of this letter of recommendation is more than enough to get him anywhere." Chief Gu spoke till there, and then he waved his hands, having lost patience. "Xiao Song, isn't this occupational disease of yours too much? Either way, he's the only one. If you want him, you can have him. If not, then  I'll really give him to Old Lin. 
Chief Gu didn't point out who it was that wrote the recommendation, but Song Wen's heart had already slightly moved. The former partner of the current head of the provincial bureau? Could that be…? A figure appeared in his mind 
After all, Song Wen and that person hadn't seen each other for more than ten years. In the case that it was that man who vouched for the newbie, it wouldn't be so bad to take care of him.
But then Song Wen rejected this idea quickly. Now that his ex-partner was also gone, who would be responsible for this trouble?
Seeing that Chief Gu had finished talking, Song Wen compromised. "If there's really no one else, I'll take him." As he spoke, he made up his mind. He would thoroughly examine this person first. He would put this rich second generation brat through a good trial and let him know his limits so he could back out himself.  
As if he knew what Song Wen was thinking, Chief Gu snorted again and leaned back in his chair. "Sure. It's not like this is an arranged marriage, so why are you making it sound like I'm forcing you into selling yourself? Anyway, he's a trainee police officer now. He'll be on probation for an year. I expect that when he's done, the provincial bureau will take him away. Just don't cry to me later saying you want to keep this person."
Chief Gu had an almost pathological obsession with doing what he believed in, and no matter who persuaded him, it wouldn't work.
It was just like when he had originally decided that Song Wen would be the captain of the South City Criminal Police. Chief Gu came under fire at that time for deciding to promote Song Wen, who was a minor detective that had just graduated two years ago and had no support backing him.
On the other hand, Song Wen didn't play by the rules and he often used all sorts of unconventional methods while investigating. As luck would have it, he had superb portrait simulation skills, and had repeatedly solved crimes in the city bureau using it.  
Even so, Chief Gu still helped him take care of countless complaints because he was too straightforward to see eye to eye with others, and too swift in his actions. He would always go his own way, unwilling to compromise with the rules.    
Fortunately, his abilities were excellent. In November of last year, the South City Bureau had a major arrest operation. Chief Gu appointed Song Wen as the on-site commander. There were more than 20 people at the scene, divided into five teams, and the armed police cooperated with each other to rescue the hostages.  
Song Wen arranged each role clearly and precisely. The whole mission was clean and a complete success. It blocked all criticisms and gave Chief Gu face. Furthermore, Song Wen became the well-deserved number one member of the South City Bureau. 
Now Chief Gu seemed to have recognized this newbie and decided to give him the position at all costs. Both men were like stubborn landlords, both arguing with each other, neither being able to convince the other.  
Song Wen saw that nothing would change and stopped talking about it. He interrupted Chief Gu, saying, " Chief Gu, remember to give our group's bonus."  
"It all depends on your strength." Chief Gu's next words destroyed Song Wen's will. "Hand over your closing report on time."  
Song Wen instantly stiffened. He raised a corner of his mouth into a sneer and looked at Chief Gu.
Song Wen had never been afraid of anything. He got the job done perfectly fine. It's just that he hated writing summary reports with a passion. He was bad at writing up reports, but the other guys on his team were even worse. As time passed, he ended up being the one who had to catch the ducks and put them on the shelves.
(T.N: 赶鸭 子上架 – Catch the ducks:  It is a metaphor of forcing to do things that cannot be achieved.)  
His colleagues in the bureau even joked that his summary reports were the last hurdle standing in his way of becoming a branch chief.  
Other teams relied on their investigation for six points, then they wrote a report and polished it to get themselves eight points.
He, on the other hand, could achieve 8 points solely by merit, but thanks to his terrible writing, it would become worth only six points. 
Instead of doing a meticulous analysis, Song Wen would rather draw portraits to profile criminals. So the mention of the closing report gave him enough of a headache that he wanted to resign. Then, Song Wen thought that he'd still have to write his resignation report, and resisted the temptation. 
Before Song Wen left, Chief Gu suddenly remembered something. "By the way, Zhou Yining asked you to go over to him after work and collect the results of the newcomer's psychological evaluation."  
Zhou Yining was a psychologist. Ever since the provincial bureau issued an order to attach importance to their officers' mental health, there had been many advisers in the South City Bureau who were responsible for doing regular psychological evaluations for them. It was compulsory for everyone in the bureau to pass this Dr. Zhou doctor's test when joining.   
The regular officers would be evaluated every half a year. They had to report any kind of traumas they faced or the death of any of their teammates. There were some problems that they'd have to report even if they didn't want to.
"Anyways he must have passed. If not, how could he be put in on the team?" Song Wen remembered the last time he had his eyes on a police officer. In the end, Zhou Yining noted down his inability to resist psychological pressure, dismissed him and sent him to the logistics department. Song Wen said to Chief Gu scornfully, "We're so busy and you still want me to run errands." 
Chief Gu said, "What are you talking about? We hired Dr. Zhou with great difficulty, so don't go back and make him angry. Besides, Dr. Zhou said that he wanted to talk to you."  
Song Wen answered, "Got it."
♛♛♛
The outcome of the negotiations wasn't satisfactory. Song Wen walked out of Chief Gu's office, holding the file and pacing back and forth. He kept thinking about how to teach the first lesson to this newbie and establish his authority.  
Song Wen walked to the office area, then he turned around and asked Fu Linjiang, who was next to him, "Hey? Where's the new guy of our team? Why isn't he here yet? What is this dilly-dallying?"
Several members of the first team were busy burying themselves in office documents. Everyone in the team knew that Captain Song had always been vigorous and resolute. There was no room for sand in his eyes. Most importantly, if someone was slowing down the team, there would be no getting away from it. 
"Naturally not everyone is as fast as you, Captain Song." Fu Linjiang pointed out and said, "He went to get something from his car."  
Song Wen walked up to the police station doorway and looked at the Lamborghini. Coincidentally, the driver of the car had just finished picking up his things and was getting out of the card. A slender hand stretched out and shut the car door. 
Under the morning light, the man raised his eyes to look straight at him.  
It was only then that Song knew what Fu Linjiang meant by "Calamitous beauty". 
The man had a face that was unforgettable. His skin was fair, incredibly translucent and spotless, akin to a jade sculpture. His jawline was sharp, and he exuded an aura of youthfulness, which was balanced by a kind of calmness that did not match his age. In particular, his eyes really stood out.
He had a pair of double eyelids, with the ends slightly drooping. They opened up to reveal a set of eyes, as dark as ink beads on rice paper. Those eyes added to his refined aura, holding a touch of polite restraint, along with the feeling of an all-encompassing perception in that deep, soulful gaze. 
When his collar shifted, Song Wen caught a glimpse of a red mole dotted somewhere between his snow-white neck and the angular protruding Adam's apple. It was like a royal blood seal.  
Looking at the person, Song Wen instantly forgot the bellyful of lecturing words he had prepared.
---
Translating team shenanigans
Song Wen: He looks good but can't be eaten (╥﹏╥)
Mochi : ( ͡° ͜ʖ ͡°)
Cye :  ( ͡ᵔ ͜ʖ ͡ᵔ )
Hells: ( ͡👁️ ͜ʖ ͡👁️)
Readers: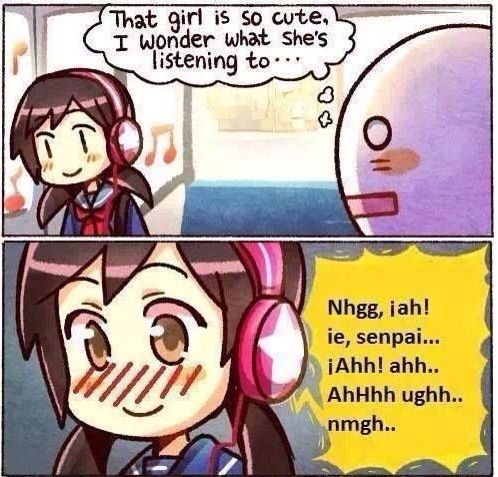 Support Foxaholic
Your donations will go towards site costs and management.
Individual translators usually have their own ko-fi buttons. If you still cannot find it, then please specify to which translator and project you are donating the coffee to through the Foxaholic account.