After Being Transported into a Book, I Adopted the Villain - Chapter 66 Part 1
Translated by IAllsIsAwe at Foxaholic.com
Proofread by Kyeopchi
---
Chapter 66: Kiss (1)
---
Shen Yu was aware that it was unreasonable for him to eavesdrop on other people's conversation. Plus, he also didn't have the nerve to speak. Therefore, he buried his head and quietly watched Tang Li's long and beautiful hands gently kneading his lower legs.
After ten minutes, only then did Tang Li stop and retract his hand back. He stood up and lent his arm to support Shen Yu.
"Can you try to walk?"
Shen Yu's weight was easily supported by Tang Li and got up to move his feet. He was not as sore as he was earlier.
"Thank you." Shen Yu pulled up the corners of his mouth awkwardly.
Tang Li looked down and stared at Shen Yu's face for a moment. He seemed to have thought of something and let out a helpless sigh, which was almost inaudible.
Shen Yu thought that Tang Li was angry at him for eavesdropping. He immediately flushed from shame. He thought that he should give an explanation to Tang Li, even if it's an excuse. It would be better than not saying anything at all.
In the end, before Shen Yu could make a sound, he heard Tang Li start, "Actually, those words I said earlier are the truth."
"Huh?" Shen Yu reacted slowly.
"The things that I said to Jia Zhe." Halfway through, Tang Li suddenly realized that Shen Yu didn't know Jia Zhe. So, he changed his way of saying it, "Just what I said about liking you."
Shen Yu, "…"
Originally, Shen Yu wanted to pretend that he didn't hear anything, but he didn't expect that Tang Li would frankly tell it to him. He didn't know how to react.
It seemed that regardless of how he'd answer, it's a little strange and uncanny.
Under Tang Li's scorching gaze, Shen Yu was silent before he gave a nonchalant 'oh'. Then, he calmly said, "I know."
Tang Li was stunned for a moment.
Before he spoke about it, he imagined several of Shen Yu's possible reactions. Almost all of which were negative and intense. He had no idea that Shen Yu would act so calmly.
It was as if he was not talking about love between lovers, but the love of the younger generation towards the elder.
However, he said it directly and clearly enough earlier. In addition, with Jia Zhe's undisguised blatant words, it was impossible for Shen Yu to not be aware of what he wanted to express.
Unless—
This means that this was a rejection.
Upon thinking about this possibility, Tang Li's eyes instantly dimmed. His long eyelashes now casted a small shadow. His smile quickly faded away.
At this moment, Tang Li even thought of countless ways to forcibly tie Shen Yu to his side.
He acknowledged that he was not a kind person by nature. Even if someone would say that he is an ingrate or a bastard, he would admit it as long as Shen Yu remains by his side…
Tang Li found that despite how calm and relaxed he usually acted, when it was all about Shen Yu, his emotions would be out of control like a wild horse. He couldn't rein his own thoughts and his actions.
Like now…
The thought of Shen Yu rejecting him made him feel like he was going crazy.
At the same time, Shen Yu suddenly called out his name, "Chestnut."
Tang Li's drifting thoughts were immediately pulled back. He turned his head only to find that Shen Yu's eyes were set on him. Those fickle and frivolous peach blossom eyes now full of seriousness.
The expression on Shen Yu's face was very serious. his eyebrows were slightly wrinkled. It was as if he was confronting an extremely important lifetime event.
"I want to think it over for a while before I give you an answer." Shen Yu hesitantly said, "Furthermore, you are going to take the college entrance examination in the summer next year. Your studies are a priority. I don't want you to be distracted this time round."
Hearing that, Tang Li was stupefied for a good while.
As soon as those words processed in his mind, his dead dejected heart became radiant once again.
He prudently asked, "When you say you want to think it over, do you mean…we can date?"
Shen Yu frankly replied, "If you are an adult, I could try dating you. However, you are still a high school student, and you haven't turned eighteen yet. I don't want to be accused of abducting minors."
Tang Li hurriedly said, "I'm 18 years old according to the Chinese calendar."
Shen Yu was in a good mood and felt that it was funny,  he shrugged, "The law won't acknowledge your age according to the Chinese calendar."
Having said that, Shen Yu literally walked out of the bathroom.
Tang Li hastened and followed him like a puppy, excitedly circling Shen Yu. His eyes crinkle in happiness, looking at Shen Yu with eyes that are as gentle and lukewarm like spring water.
"You said you would think over it for some time. How long will it be?"
"Before your college entrance exam."
As soon as the words left his mouth, Shen Yu saw Tang Li count his fingers very earnestly.
"There's still seven months to go." Tang Li frowned. He seemed to be quite dissatisfied, "It's too long."
---
Awe Hidden Corner: Sorry. Forgot to post chap.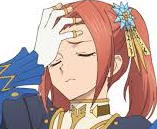 Support Foxaholic
Your donations will go towards site costs and management.
Individual translators usually have their own ko-fi buttons. If you still cannot find it, then please specify to which translator and project you are donating the coffee to through the Foxaholic account.